A skilled nature's master must have shaped this area millions of years ago. I find riding on the flat rather boaring so I am taking you through some wild hills, and trails.The artists' route features some sculpure made by skilled craftmen  who just leave their mastepieces along the road for everyone to admire. The silence makes you enjoy the wilderness surrounding you, appreciating the view your eyes are busy looking at.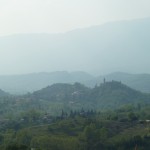 History of farmers making their living on these hills makes one's think how lucky we are nowadays with tractors and dedicated tools. The colors of the autumn give these surrounding a magic look. From here we move to Montello a stand alone hill that has the shape of an elefant back, and on week-ends is packed with cyclists riding along its network of routes. In 1995 the UCI staged the World Championship on the roads of Montello. Needless to say that some professional riders can also be spotted on these roads.
On the way back we will see some Villas, and climb to Asolo a middle aged village where time seems to have stopped. Its hills are dotted with villas and palace, once owned by the rich merchants and ruler of the Serenissima Republic of Venice.
Please check out the photo gallery to see more places
http://www.flickr.com/photos/508jaguar/sets/72157634624569322/