Tour 5 Hrs. 120 KM.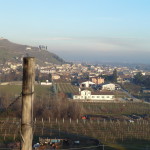 a breathtaking view from the last line of hills before they meet the plane below which extends to the Adriatic Sea. This extraordinary landscape offers a combination of roller coaster roads, and some sharp uphills, which are also beaten by the local professional riders, and by some stages of the Giro d'Italia.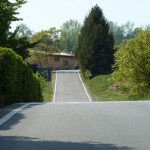 Ca' del Poggio is the most famous one and I will take you there. Many amateur love testing their climb abilities right on this hill.
Through the vineyards you will spot some castels and patriacal homes to remind us of the sort of life people put up with in this area since the middle age. Wine makers shops are dotting the hills, and a stop is a must to taste the flavor of this yellow rich pour dancing in the glass releasing the smell of a long wine making tradition.